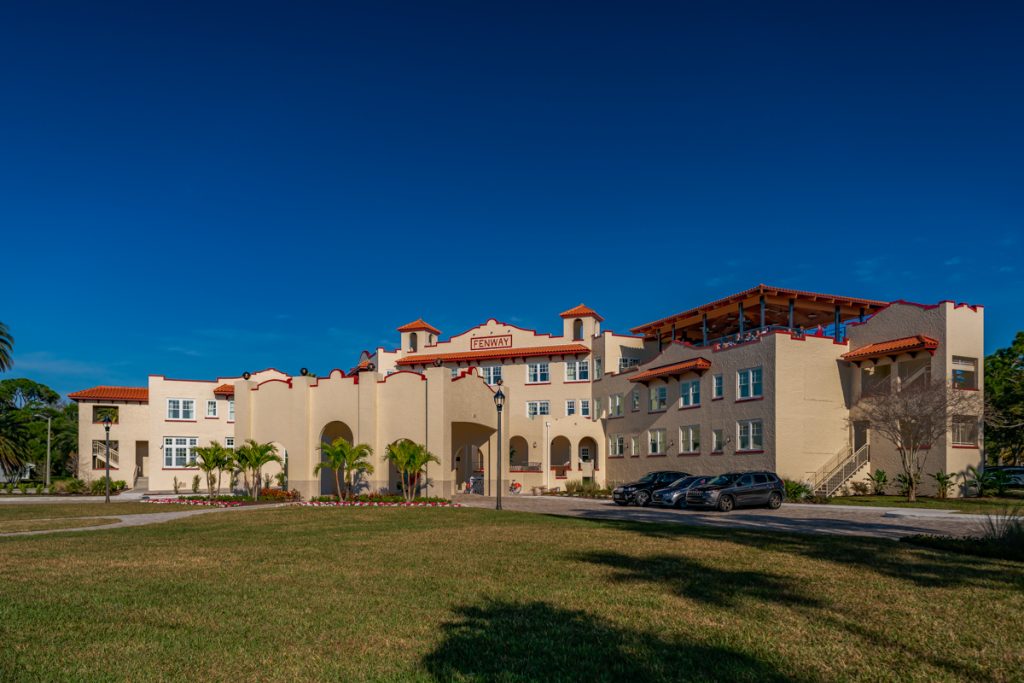 Klar and Klar Architects is pleased to announce the completion of the three plus year design of the historical Fenway Hotel in Dunedin, Florida. 

Klar and Klar Architects, in working with our client, The Taoist Tai Chi Society, started the project by doing extensive analysis of the 1920's era building. It became evident early on that the building's structure and components were in serious disrepair and would require replacement of most everything except the exterior walls. These vast improvements included 80% new structural framing along with 100% replacement of architectural features such as doors and windows along with all new, code compliant and updated HVAC, electrical and plumbing.

Most importantly, during this renovation process, it became clear to all involved that the southwest wing would be an excellent location for a roof top bar! It had a spectacular view accompanied by a wonderful sea breeze. The design incorporates a sociable central bar with perimeter seating. By manipulating the architectural form, we were able to increase the comfort level with greater air movement underneath. The insulated and broad roof overhangs can remain operational in summer thunderstorms. This +/- $1.5 million add has become that special spot that this hotel needed. The end result was that this roof top bar has now become a destination for west coast locals. 

Klar and Klar's years of construction experience and in-depth historical renovation knowledge has made us extremely qualified with any type of historical renovation. We are currently in our fifth year doing similar renovation work for Pillsbury College on the National Historical Register in Minnesota. Prior to that, Klar and Klar Architects provided design services for the historical Belleview Biltmore, as well as multiple historical home renovations throughout the Tampa Bay Area.