Klar and Klar Architects recently completed the design of a new 15,000 square foot  facility located in Hillsborough County, Florida for the PACE Center for Girls. The Building is designed to serve as a place for  80 students and can be expanded to accommodate future growth.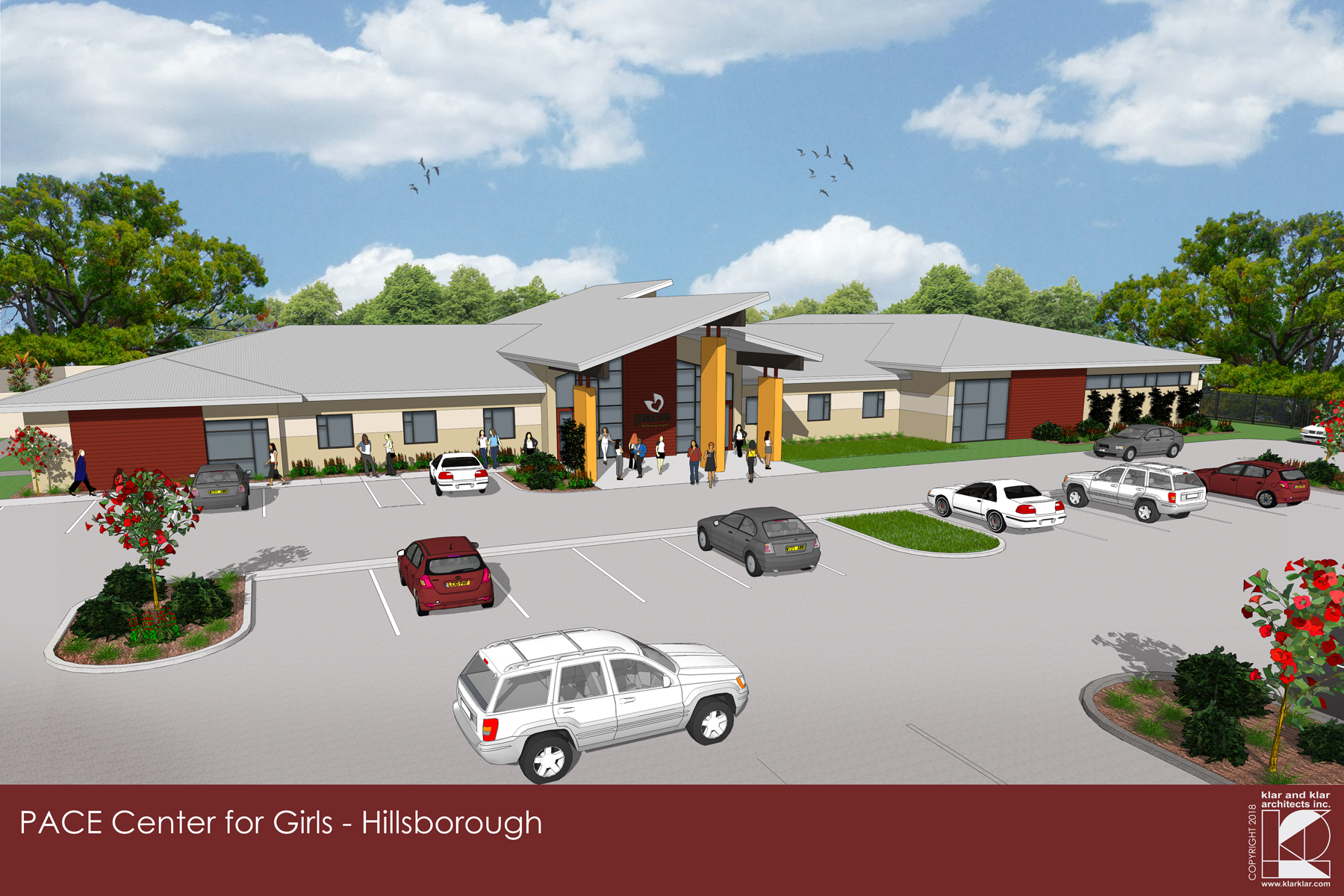 Klar and Klar Architects has been working with PACE Center for Girls since 2014 and this is the 6th architectural project we have performed for the organization. We have developed a strong, professional relationship with PACE and look forward to the start of construction this Summer!
PACE Center for Girls began in 1985 with only one Center in Jacksonville, Florida.  Today, PACE includes 20 Centers throughout Florida that serve over 2,000 girls each year and they will be opening their 21st in Citrus County in the upcoming year! PACE provides girls and young women an opportunity for a better future through education, counseling, training and advocacy.
One of Klar and Klar Architects specialties is architecturally assisting non-profits. Non-profits often have limited funds and huge architectural needs. That is were Klar and Klar really excels!
We can help in acquiring funds and can assist in many ways:
· Klar and Klar Architects can do all marketing renderings for fundraisers.
· Klar and Klar Architects can attend fund-raising events to talk about the project to donors.
· Klar and Klar Architects has extensive experience in assisting our clients acquire public
and private grants.
Several noteworthy local non-profit clients include:
– Homeless Empowerment Project West – Veterans Housing, Clearwater, FL
– Homeless Empowerment Project Service Facility, Clearwater, FL
– Benedictine Monastery, St. Leo, FL
– YMCA of the Suncoast (Multiple locations throughout the Bay Area)
– Hospice of the Florida Suncoast, St. Petersburg, FL
– Ruth Eckerd Hall, Clearwater, FL
– 
Palm Harbor Community Center
, Palm Harbor, FL
–
PACE Center for Girls
, Tallahassee, FL
–
PACE Center for Girls
, Broward County, FL
–
PACE Center for Girls
, Polk County, FL
–
PACE Center for Girls
, Pinellas County, FL
–
PACE Center for Girls
, Hillsborough County, FL
– 
PARC Discovery Learning Center
, St. Petersburg, FL